Accept & Reject Orders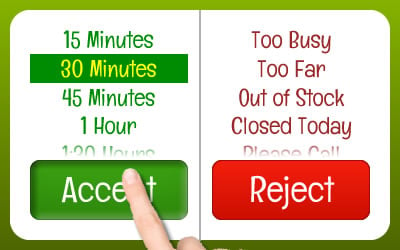 "We have accepted your order and it will take about 45 minutes". As a shop owner, you now have complete control over how to handle incoming orders. When you accept an order you have the option of telling a customer how long you think the food will take before it is delivered or ready for collection.
If you reject an order, you can specify a reason as to why you could not fulfil the order. This will reduce the amount of time-wasting calls where customers ask you how long an order will take. When you respond to an order, the customer will be emailed with your response automatically!
We would highly recommend that you do not reject any legitimate order as whilst you can reject it, the customer may take offence and not re-order from you again.