Online Payment Gateway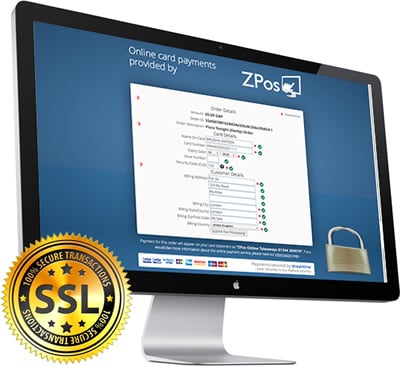 Take payments online with your website. Super-secure, no credit checks, no contracts, no costs, instant setup and weekly payouts!
After you sign up for an online ordering website for your restaurant or takeaway, you need to choose how you want to take payments for your orders.
What are my choices?
There are two types of payments you have at your disposal - cash or card. When a customer orders online and chooses to pay by cash, you simply need to collect the cash your self at the door or in your restaurant, however when it comes to card you need to make a choice from the following:
1) No Online Payment Gateway
You do not have to take card payments online if you do not want to. This is not recommended because you will lose out on orders where a customer wants/needs to pay by card. On average, 60% of online orders are paid via credit or debit card.
2) Your Own Payment Gateway
Get your own payment gateway and internet merchant account. This is like getting an online version of the PDQ terminal you have in your shop, you need to get credit checked, then wait a few weeks for the setup (2 - 4 weeks on average) and finally pass the PCI-DSS checks. The costs for this are typically between £15 - £25 per month for the account, and then a 1.6% fee when a customers pays online and uses a credit card, with a 20p charge for a debit card. (Costs are then subject to UK VAT). Payouts are usually 3 - 5 working days. If you do want your own payment gateway please contact us as we can get the best rates available!
3) Use Our Online Payments Service For Restaurant & Takeaways
Use our free online ordering payment gateway service. We are one of, if not the most established provider of online ordering websites for takeaways and restaurants alike. As such, we are proud to be the only online ordering website provider who can supply online card processing services at no cost to the merchant with instant setup, no credit checks, no contracts and weekly payouts. Now our payment pages come with a free SSL certificate worth £450 per year!
Why should I choose to take card payments for my online orders?
Firstly, customers are ordering their takeaways online for the convenience and extra benefits. Paying by card is more convenient than cash to a lot of hungry customers and typically we found that over 60% of the orders put through our takeaway online ordering websites are paid by credit or debit card as opposed to the cash alternative. By not accepting card payments you are instantly stopping a large majority of takeaway customers from ordering online because they simply do not have cash in their house. Furthermore, you are giving customers who want to pay for their food a reason to look for other takeaways online and order elsewhere on another online ordering website which does allow card payments. These are customers you cannot afford to lose as they may not come back! Other reasons for getting an online payment gateway for your takeaway are:
Higher order values - It is a clear statistic that customers spend more when they use their card.
Better security for you and the customer - Customer's recognise the security of online payments with SSL. Your benefit is that you know you already have the money before you deliver the food and waste time and effort on hoax/fake orders. You also know that your customers are paying the correct amount.
No hassle at the door for your drivers - No fumbling for cash or excuses for lack of money. When the driver arrives at the door he can simply give the customer their food order and move on to the next, this saves time and means you can deliver more online orders per hour.
Increase customer trust by acting professional - Accepting card payments is professional. The big takeaways do it and so should you!
Credit cards are great for customers, for two reasons - One; often takeaway lovers do not have disposable money until the end of the month, so by allowing them to pay by credit card means they can order even when they don't have money but you still get the full amount. Two; some customers get rewards when ordering online so they actively look for places to spend.
Save time on the phone - If you direct customers to your website when they place their order and want to pay by card, your staff will have more time to spend on preparing and delivering orders giving customers a better service overall.
It potentially costs you nothing - If you process a lot of transactions there are no monthly or transactional fees for you as the retailer, just the same as cash.
We deposit into any account, business or personal - If you opt for our online payment gateway for your restaurant's takeaway online ordering website, we will happily deposit your money weekly into any UK bank account. All we need is your bank account number and sort code.
How does your free payment gateway work?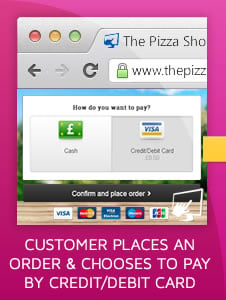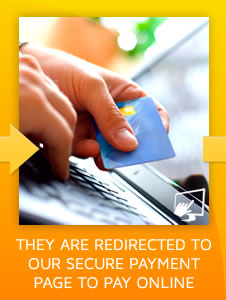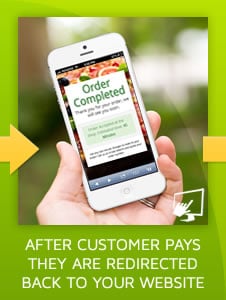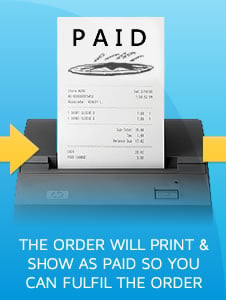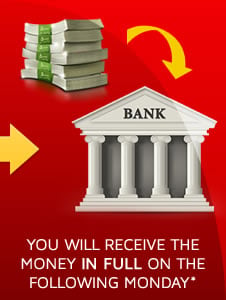 Is your online payment facility secure? What about fraud?
We use one of the largest banks to process our payments. The payment page where the customer enters their card details is encrypted with a 256-bit military grade SSL certificate; this means card details can't be hacked. Also, we don't send you, or in any way retain the customer card info which further increases the security. If you were to buy the same SSL certificate yourself from Symantec you could be paying anywhere from £400 to £1500 per year - you don't need this with us.
Our online payment gateway is configured to be very strict. We ensure that the card used truly belongs to the customer who is placing the online order. This means we check that the address is 100% right, postcode is correct, expiry date matches, last 3 digits on the back of the card (CVV/CV2) and we also enforce 3D secure. 3D secure is a feature of online payments which requires the cardholder to enter a secret password to verify their identity. All this together means that your risk of charge back for fraud on an online payment is very very low.
Why don't I have to pay anything?
We cover the costs of your monthly & transaction fees so you do not need to pay them. We get a bulk rate from the banks so it's a little cheaper for us. Nowadays it is normal for a hungry customer to pay a small banking fee when making an order online. If the end user chooses to pay online by credit or debit card, we apply an additional flat rate fee to the customer's online order, this means the customer pays our transaction fee, not you as the shop. So, as an example, if a customer makes an online takeaway order for £10 and chooses to pay by card, he/she will be prompted that there is a fee to pay (currently 50p), this brings their order total to £10.50. When we send you the money due for your online order, you would receive the full £10 for your order, and we keep the 50p.