Full Product Customisation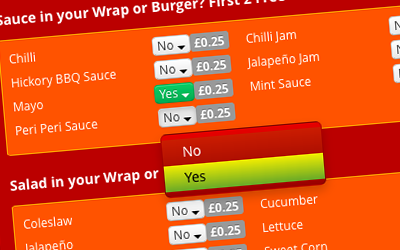 No other online ordering website company in the UK can deliver a product customiser like we can. The ZPos product customiser is more advanced than any other system and leagues ahead of the big companies. The full customisation gives your customers the power to have their food exactly how they want it. This will reduce mistakes in the kitchen and hassle on the phone, as they will prefer to order online, saving you time and allowing your staff to spend more preparing and delivering orders. We can make product options as simple or complex as you need them, for example:
Simple – A fish and chip shop takeaway might want the customers to be able to add salt and vinegar to the chips. Our online ordering software allows this.
Advanced – A pizza takeaway gives customers the options of choosing a crust (which might affect the price), a base sauce and the option of choosing multiple toppings. These toppings might have restrictions, for example you might want to limit the amount of changes, you might want to double, triple or even unlimited additions of a topping. You might have different prices for meat and vegetarian toppings.
Super Complicated – A kebab takeaway might want to give the option of salads and sauces along with kebab extras like double meat or the option of half/half or separating pitta and the contents. You might have a rule like "the first 3 salad items are free but any more will cost 50p each, but I only want a maximum of 5 salad options on there and they cant remove the onions unless they swap with something more expensive or if they order it with a can of drink and chips". Whatever crazy rules you want to make, we can take it. You should be able to trade online the same way you do in the takeaway/restaurant. We make the system work for you not limit your customisation because "the system can't handle it". We are the only online ordering website provider in the UK to be able to cope with this example.