Online Ordering Printer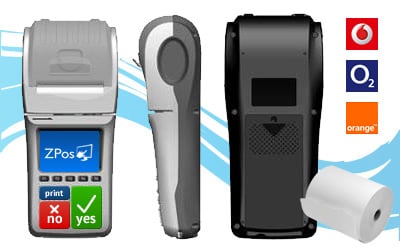 Gone are the days of receiving orders via email, SMS, fax or phone call. The modern way to receive your online orders is via internet enabled printers. Food portal leaders like Just-Eat and Hungry House use such printers, however ours are much cheaper have a lithium ion battery which can last for up to 24 hours if disconnected from the mains supply. The online ordering printer battery is great if you have a power cut, or if you want to take the order printer on the road with you and accept/reject orders on the go. All our ZPrinters come with lifetime warranty and free replacement if they are faulty. We can provide online ordering printers with GPRS, 3G or WiFi depending on your requirements. All printers act the same and can accept or reject orders; the only difference is the look of the device and its connectivity. By using mobile data technology, it means you don't need a broadband line or PC to access your online orders. You will need a SIM card that supports data-only connections to our secure server, we provide this SIM card to you for free when you take out one of our online ordering packages. We currently work with Vodafone, Orange and O2, and will give you the SIM card with the best coverage in your area.
When an order comes in from your online ordering website, the ZPrinter will print the order and play a ringing tone until you have pressed a button on the wireless printer. The continuous audible noise will mean you won't forget about the online order that arrived, but you might also consider the EyePro service; a service which will send an SMS text to you to notify you of your missed online order if you haven't accepted or rejected the order within a given timescale. The SMS text message will also tell you the customer's full order so you can make it even if your printer is not working.
Our 3G and GPRS printers allow you to reprint your order receipts as many times as you like. They store the last 100 orders on them so you can always access an order from anytime in the day without having to use a computer. The receipts that get printed will not mention our company name, and will only advertise your name. Please visit our shop to buy the cheapest PDQ, receipt and till rolls.