Is branding the key to success?
What is a brand?
A brand can be defined as a name, design, symbol, logo, or any other feature that distinguishes one seller's product or service from those of another. Simply stated, a brand is the identity of a business.
Branding is crucial and at ZPos we often find that first-time business owners within the restaurant and takeaway industry (hospitality) believe that their brand solely consists of their logo and physical elements like flyers, business cards and leaflets or product packaging – labels, boxes, and bags.
These do support the brand of a business, but branding is so much more than just these elements.
There are many ways to positively influence a customer's perception of a business through branding online. Through the website, social media channels, email marketing campaigns and advertising via Google to name a few. Most businesses are actively capitalising on these new and existing digital marketing methods. In order to keep up with the competition, companies need to establish a connection with customers through their brand to win their customers.
Consistent branding is crucial
Inconsistent branding can be damaging, simply stated – it makes it harder for customers to trust you. It will create an uneven identity and people struggle to understand an inconsistent brand and establish a positive relationship with it. Companies may appear careless and unprofessional too. This will not help you get more orders, especially with so much choice now available online.
It has been reported that 'companies focusing on maintaining brand consistency have seen average growth of 33%'. While '25 % of companies say consistent branding contributed to their overall revenue growth'. So clearly, consistent branding has an impact on a business and its success. All companies should strive for consistent branding when devising a business strategy.
How to achieve consistent branding
Whether a business is just starting out or has been around for years, it is important to set out guidelines when it comes to branding. These guidelines help to create the basis of a brand and following them will ensure that branding stays consistent.
One of the very first things a company can do for their brand is to create a recognisable and visually appealing logo. Even though branding is more than just visual and physical elements, evidence suggests that 'the aesthetics of [a] brand'  can impact a business. A company's logo can set the tone for customers straight away and consistency in the colour scheme follows closely in terms of importance. 'Colour is foundational to the visual identity of your brand' and when companies implement colour in a consistent manner, i.e., on the website, social media etc. customers will start to associate that colour with that specific company. This association can be helpful as when customers see this colour they will be reminded of a specific company, thus increasing the business' brand awareness.
However, it is not just the colour scheme of a brand that customers will remember. It is the tonality of the website and messaging that will leave a lasting impression too. Whether a company wants to be thought of as a highly sophisticated restaurant or a laid-back family-friendly space, the tone of the website wording and messaging should be adapted to give customers this impression. This tone should also be implemented when engaging with customers, whether this is on the phone, over email or on social media too.
Website Design
We have our very own team of expert web developers (in-house) who work closely with clients to create bespoke online order websites. A website is an online shop front and must represent the brand at least, as well as a business, does physically in a store or restaurant. ZPos has built thousands of websites for hospitality, all with their own unique style and branding.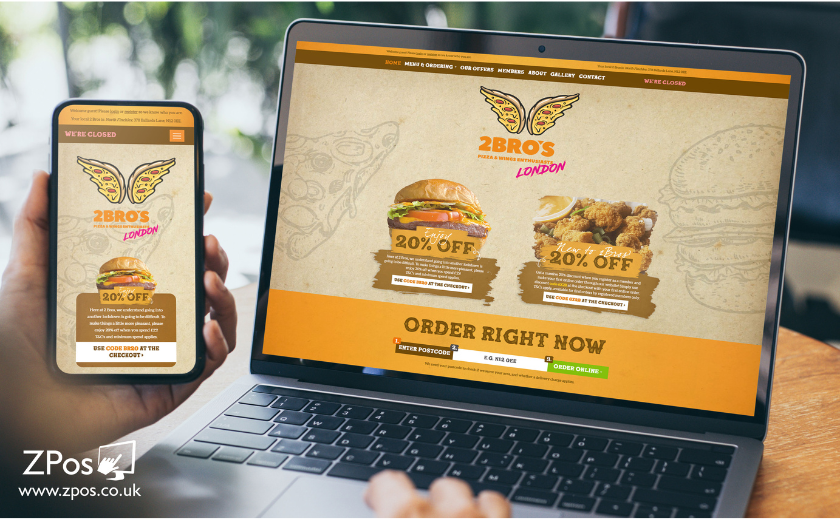 Social Media
Use social media to engage with new and prospective customers - the opportunities for companies to grow their brands is huge. 'As of 2022, there are a total of 61.67 million social network users in the UK, this is an increase of over seven million since 2018'.
Having social media channels can also improve the customer service experience, people ate able to privately message or 'DM' a business with questions or concerns. 'By listening and responding to customers on your social media platforms quickly, it shows them that you care'. Even something as simple as liking a customer's comment on social media can help to create a positive relationship between customers and a brand.
ZPos provides low-cost support for our clients with a range of social media management packages, these include content creation, posting and customer management.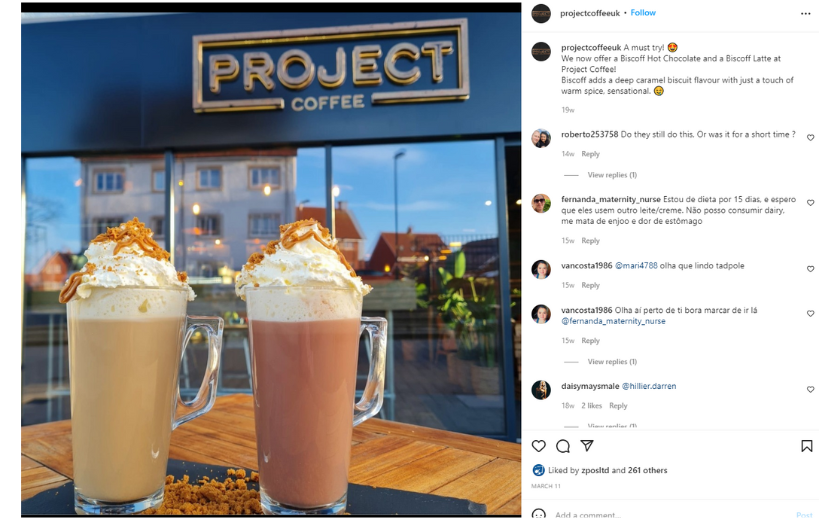 SMS (Text Messaging) 
More than 90% of the text messages we send on behalf of our clients are opened and read within just three minutes.
SMS marketing is an efficient, low-cost way of reaching out to customers, and not just reminding them that a business exists, but also rewarding them for their continued loyalty to the business. Offer deals and discounts to customers that have previously ordered, this makes them feel appreciated and they are more likely to continue ordering even after the deal or discount has ended because the company has provided them with a positive experience.
Email Marketing
An email campaign is another low-cost option to reach out to existing customers. Companies can remind customers of their brand by including their logo and colours, and by including an attractive offer with appetising food imagery, businesses are more likely to generate orders.
Need help? Our marketing team at ZPos designs custom, branded email campaigns for a fraction of the cost clients would expect to pay a traditional marketing agency. Email marketing is a very effective long-term strategy to keep a company in customers' minds so that the next time they feel the need for a takeaway or a good sit-down meal, they know where to go.
Flyers, leaflets and other printed media 
In the age of digital marketing, flyers remain a 'versatile and cost-effective' strategy that works well for both small businesses and larger companies. Restaurants and takeaways are the top industry to utilise flyer distribution as a marketing strategy and this has been the case for years.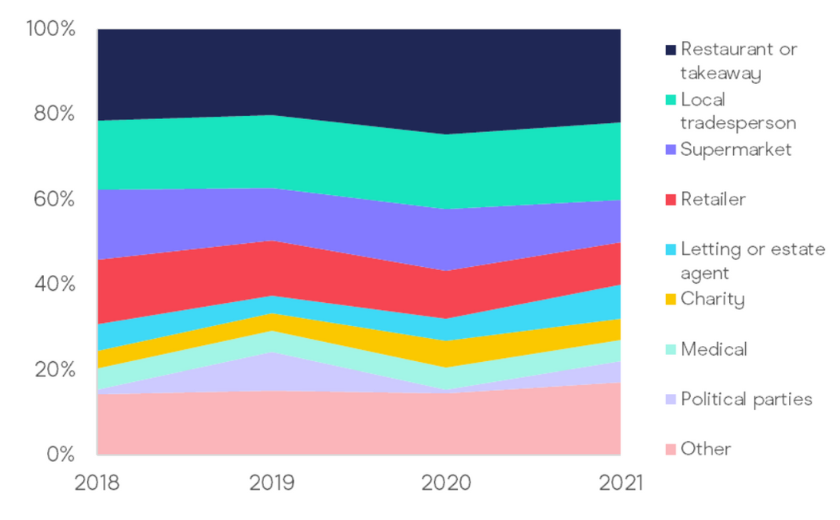 The effectiveness of flyers is influenced massively by their content and quality. We have a dedicated Print and Graphics team at ZPos to work with our customers and produce visually appealing flyers that stand out from the competition. Helping clients boost brand awareness in the local area and crucially grow their business with more customers and orders.
Need help? 
ZPos can help businesses achieve and maintain a strong and consistent brand online with digital marketing, as well as offline with a wide range of printed solutions. Our company are uniquely equipped in the market to help ensure clients maintain consistent branding, giving them a much-needed edge to stand out amongst the strong competition.